Getting Started
Open your MapMy app
Open the app's Menu and select Apps & Devices
Scroll down the list and select Samsung Health
At the bottom, tap on Connect
Toggle ON the Samsung Health integration, and allow MapMy to read and write Exercise into Samsung Health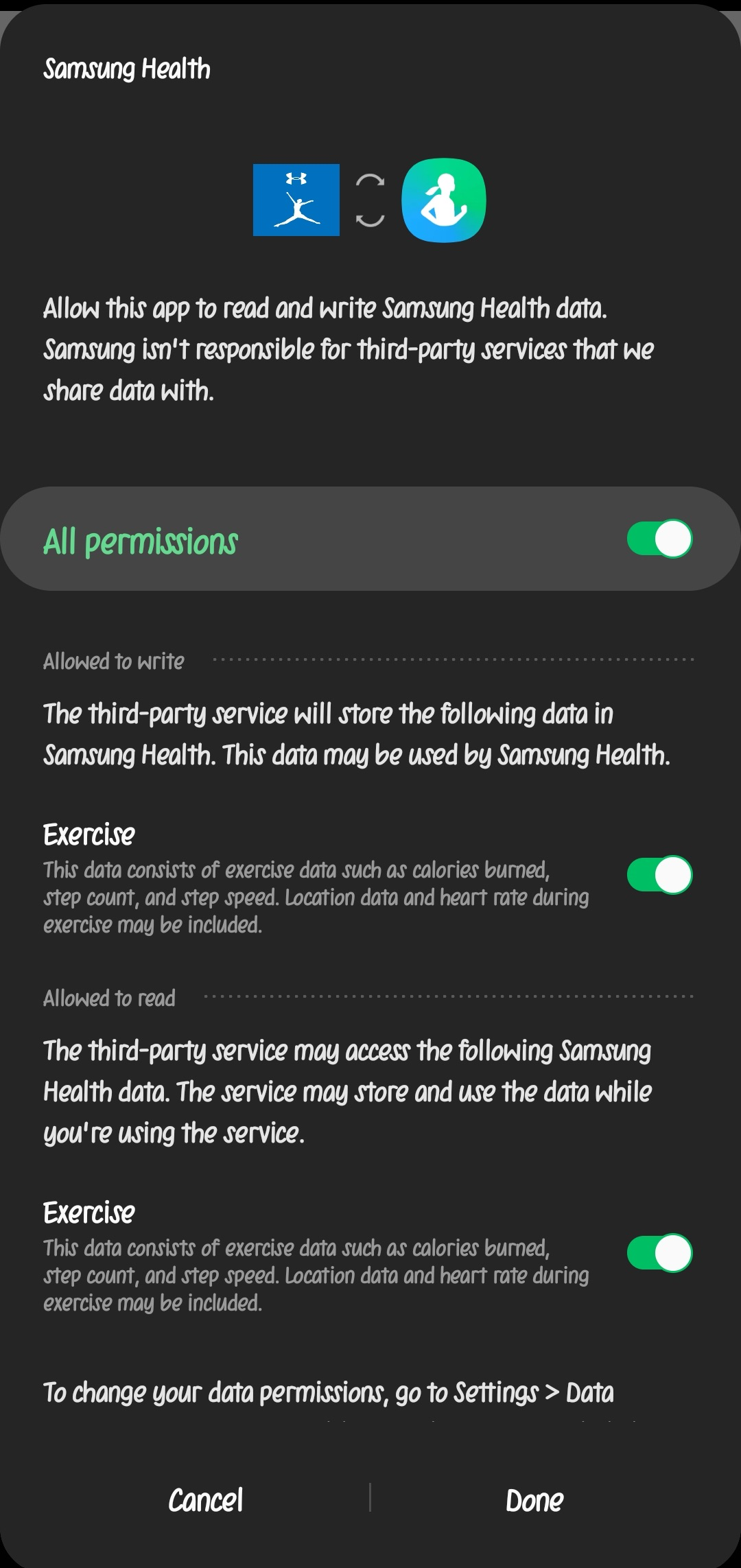 Once connected, the following information is shared between MapMy and Samsung Health:
Workouts - logged or tracked workouts are shared from MapMy to Samsung Health and vice versa. You can expect the following data from your workout to be shared: exercise type, calories, distance, duration and start/end times.
Troubleshooting
What if data stopped syncing between my Samsung Health and MapMy accounts?
In the app, open the menu > select "Connect Apps & Devices" > select "Samsung Health" > Disconnect. Follow the same steps for reconnecting.
On our website, visit the Connect Accounts & Devices page and click the blue link icon within the Samsung Health widget. Click to disconnect it from MapMy. After doing so, reconnect Samsung Health and check if the data transfers to MapMy within 24 hrs.
Frequently Asked Questions
Can I connect MapMyWalk, MapMyHike, MapMyRide, or MapMyFitness to Samsung Health?
Yes, all MapMy apps now integrate with Samsung Health.
I'm seeing duplicate workouts in Samsung Health. How can I prevent this?
We recommend using only one app to sync your exercise to Samsung Health. Syncing exercise with Samsung Health from multiple apps may cause issues with duplicate workouts. To edit your Samsung Health sync settings, go to the "Connect Apps & Devices" menu in MapMyRun and select Samsung Health.
When I connect my accounts, do historical workouts get imported?
Upon connection, some past workouts in Samsung Health may import to MapMy. If they already exist within our system, we shouldn't duplicate them.
Our Samsung Health integration is no longer compatible with Apple devices.