Please note: The most recent version(s) of our app(s) for Android no longer work congruently with Power Saving/Battery Saver/Power Optimizer Mode(s). If you are having tracking issues when your phone goes to sleep (screen turns off), try disabling these modes. To do this, go to your phone Settings > Battery > under "App Power Saving" select "Detail" > locate MapMy app(s) > turn off power saving.
GPS accuracy depends on a variety of factors, including the device you're using and its operating system, battery life, cellular network, weather conditions, and whether you are in an open area (congested cellular conditions, trees, and buildings can obstruct GPS). Keep this in mind and please know that slight miscalculations are to be expected when recording.
The tips outlined below should restore normal GPS recording to the app on most Android devices with the latest OS. This will prevent common problems including incorrect distance, stats tracking, and GPS-necessary audio feedback. Fixing any incorrectly recorded stats or route details requires editing the workout, and/or editing the route.
First, ensure you are using the latest version of our app. Many devices have special GPS behaviors, and the latest version of the app handles these behaviors the best. To upgrade the app:
Enter the "Play Store" app from your app drawer.
Tap the menu button and click on "Settings". Tap on "Auto-update Apps" and select the second or third option, pick whichever better suits your situation.
Return to the "Play Store" menu then tap the menu button and select "My Apps and Games". From this list, scroll down to find our app and select it.
Then from the details view, you may select the "Update" button if you see one (If you only see "Open" and "Uninstall" then you already have the latest version).
Next, ensure that you have enabled GPS on your Android device and for our app. Instructions on how to do this are below.
Enabling GPS Tracking on Your Device
Enter your phone's device's "Settings" app.
Select "Location" and ensure that it is enabled and that you have elected to use GPS, Wi-Fi, and mobile networks. Enabling all three or selecting "High Accuracy" mode is required for accurate tracking.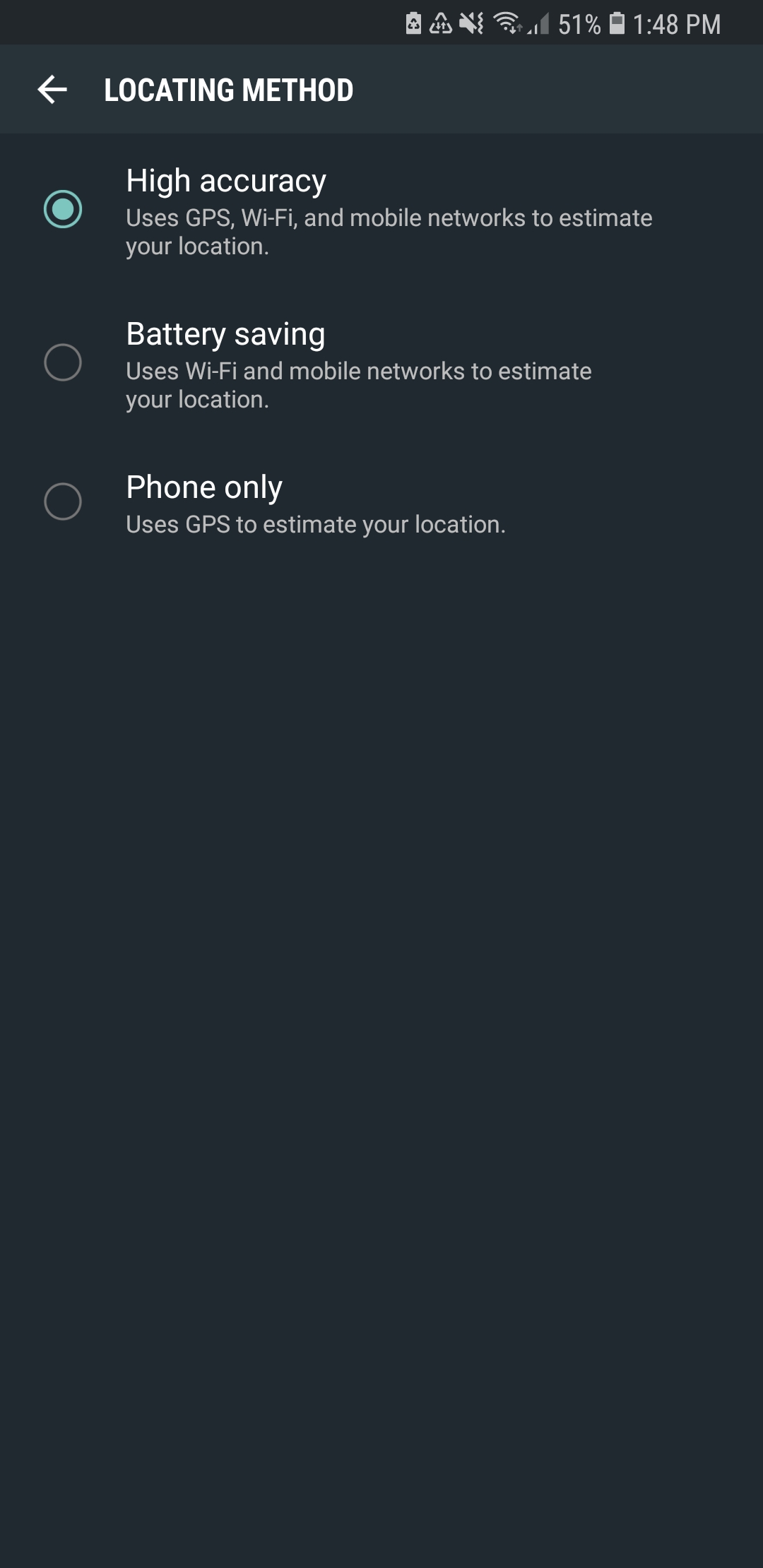 3. From the "Settings" app, select the "Date and time" item and ensure the "Automatic date and time" and "Automatic time zone" checkboxes are checked. GPS and our app rely heavily on an accurate time and time zone. Having your device set to the incorrect time zone or time may prolong the time taken to obtain a GPS fix, and may result in other inaccuracies in your recorded workout stats.
Granting MapMy Permission to Use Your Location:
When you first install the MapMy app, we will ask your permission to use Location Services. Double-check this permission has been granted by:
Enter your phone's "Settings" app.
Tap "Apps" to view a list of applications you have installed.
Scroll to MapMy and select the MapMy app(s) you have installed
Tap "Permissions"
Make sure that "Location" is toggled on.
Keeping MapMy Running in the Background
Ensuring your workout is tracked without any interruptions is a crucial part of recording your workout and training, but sometimes settings on your phone can cause the MapMy app to be placed in the background (turned off temporarily) in order to save battery. This can cause the app to track incorrect distances and often creates maps with straight lines as the phone is not active for your entire workout.
Some Android devices will include different options in order to prolong battery life, so please make sure that the app is not affected. Follow the manufactures procedures in order to allow apps to access your GPS and run in the background.
Battery Optimization settings (Android 6 and above)
The Battery Optimization setting acts as another layer of battery saving setting for individual applications (Usually applied on for applications as default). This might be labeled differently on your specific device, but any Power Saving, Optimization, or other Battery Saving mode settings in your phone, should be disabled for the best workout recording.

While these settings are active, it may result in the application crashing or not tracking distance and therefore we'd like to encourage users to disable optimization for MapMy if it is currently enabled.
For more information on this please see https://dontkillmyapp.com/ and our article here MapMy in the Background
Attention Xiaomi and Huawei device users:

We have seen that some Xiaomi and Huawei devices may experience issues with GPS accuracy and stability. To improve your device's tracking abilities you can try setting the MapMy app as a 'protected app' in your phone's settings, if available. You can also tick the permission to "Modify system settings" for the MapMy app.
If you are still having GPS issues after the steps above, try these additional steps that are known to resolve almost all issues.
Restart your phone regularly. Usually holding down the power button and selecting "Reboot" or "Power off" will do this.
Remember you must be outside with a clear view of the sky when your device is searching for a GPS signal.
Ensure you have a good internet connection when your device is first searching for a GPS signal. Your device may need to use the internet to obtain hints that will greatly reduce the time it takes to find your location.
Why do other apps show my location but yours does not?
Please be aware that just because other apps like the "Maps" app or our app may show your location on the map, this does not mean that your device has a GPS signal or a GPS location fix has been obtained or that it is functioning properly. Other apps may use cellular network or Wi-Fi based estimates to show your location on the map, these estimates are not sufficient for tracking activities like walking, running or riding.
Why does your app not work with my device's GPS?
Android only allows our app to turn your device's GPS hardware on and off. Our app does not have permission from Android to diagnose and fix issues. The quality and time taken to find a GPS signal is dependent on your Android device and its manufacturer.