To manually log and create an activity's Route using the MapMyFitness site, click here. If you know the exact route, you can click on the intersection or address and it will bring up a green starting point box. Continue clicking along at the various intersections you pass while mapping your activity.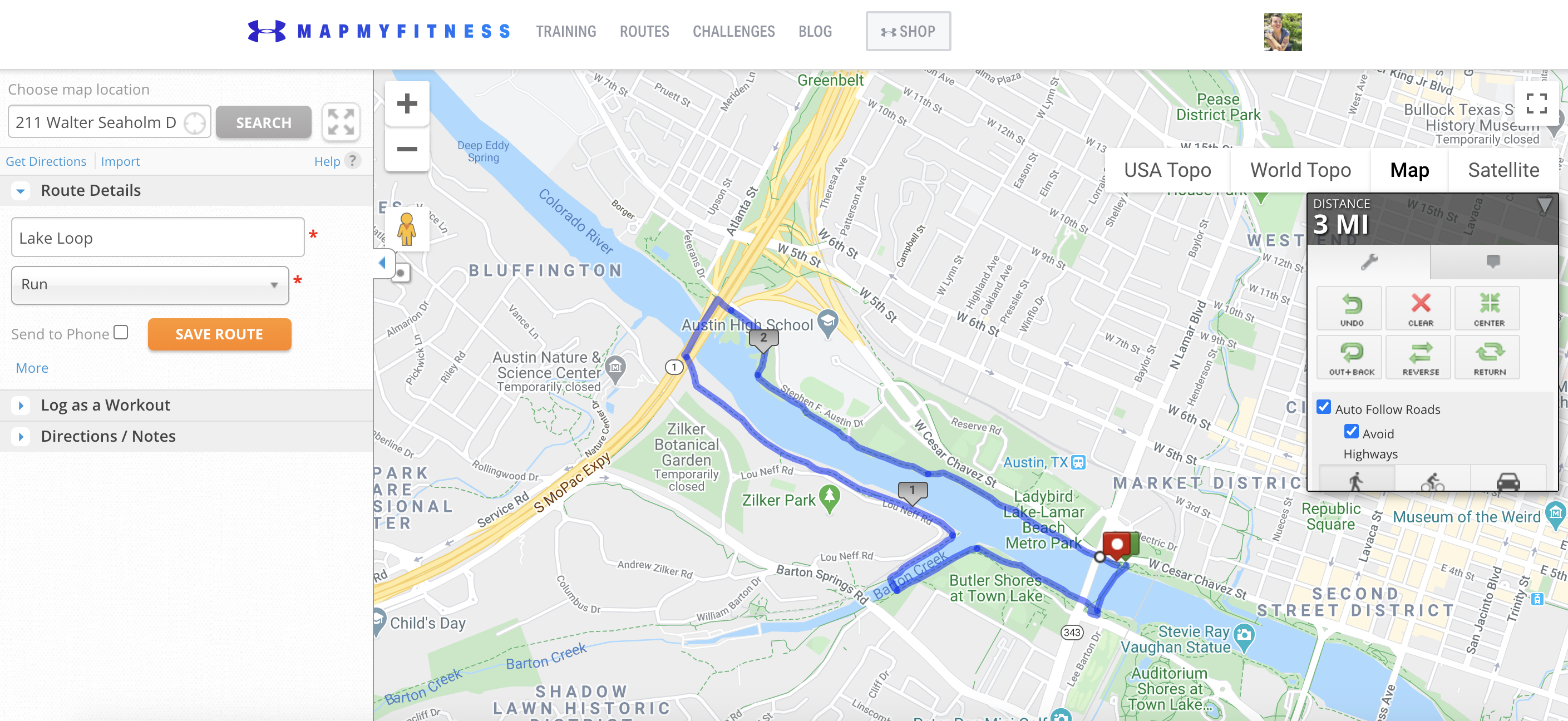 How to start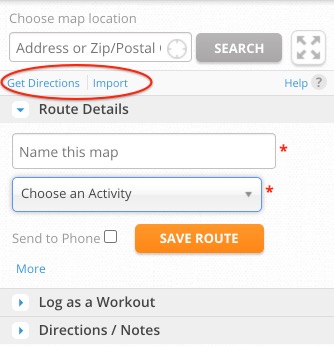 Get Directions: This will create the shortest route between the two addresses.
Import: If you have a saved .gpx or .kml file, you can upload the route through the import page.
Control Panel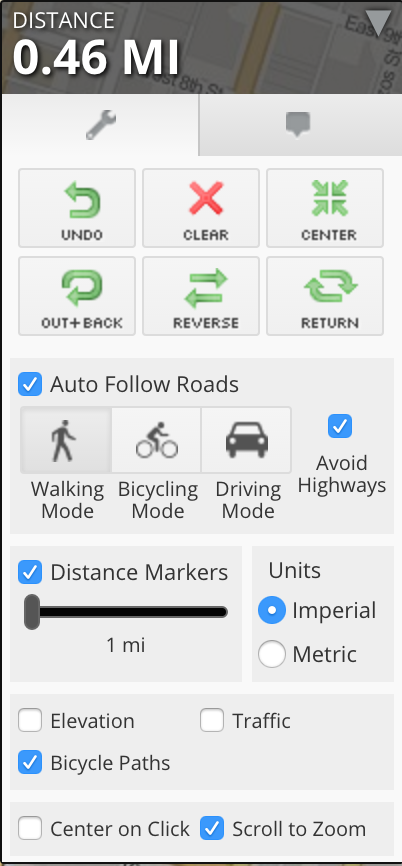 Auto Follow Roads: Useful for accurately tracking mileage along a route and easily tracking roads long distances
Note: Unchecking this box is useful when the route does not follow roads (one-way roads, trails, etc.)
Bicycle Paths: Read about Bike paths and other awesome Route Features here!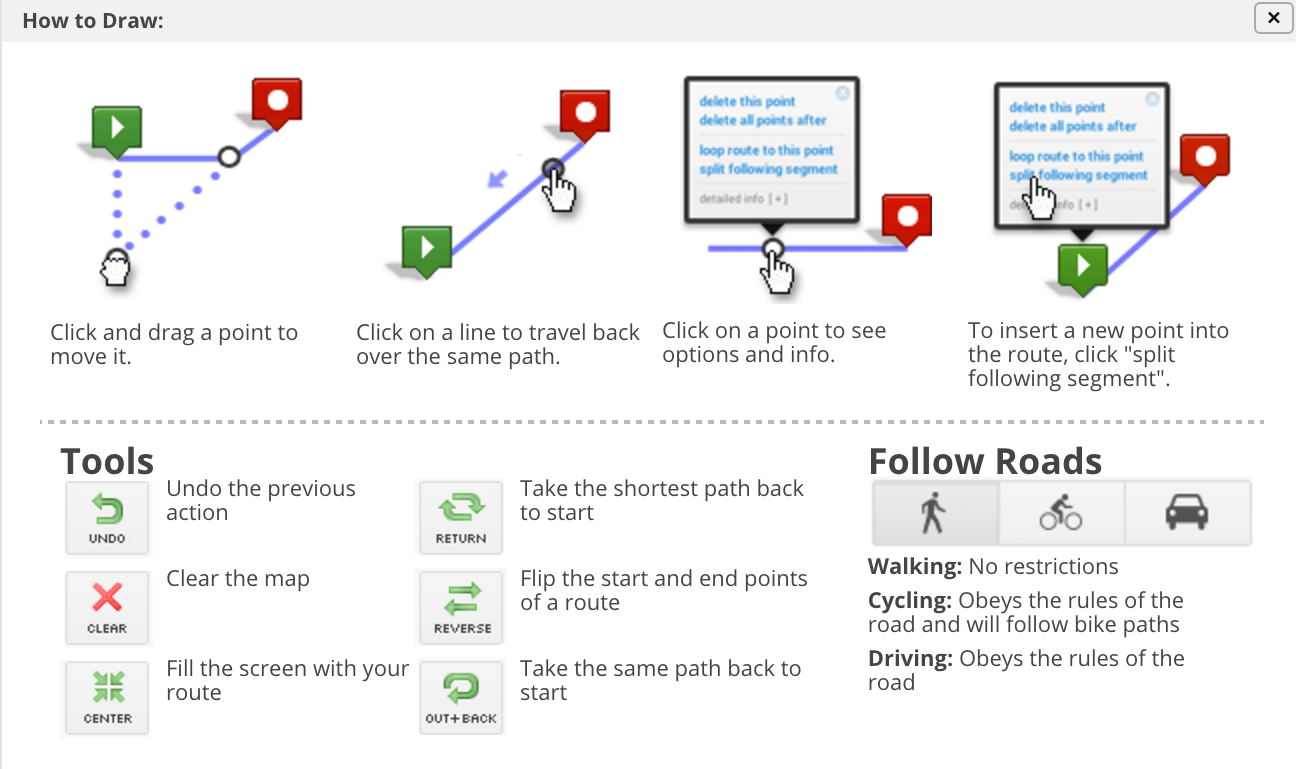 Route Editing Options
To edit any recording or route errors along the map just click a white circle on the red route line to bring up detailed options, including the ability to delete points along the route, and split the path so you can edit a route at various mid-points. You can then drag a point with your mouse/trackpad to an intersection or area you wish to move the route. When routing on a trail manually, turn off auto follow roads to plot a rough path of the trail (zoom in for this). Next, select the Snap Route to Roads option. Any navigable trails or side roads will automatically snap. *Not all side roads or trails will be able to use this feature.
Route Details
To the left of the map will be various parameters you can enter such as the amount of time it took to complete and the date of your activity. Appearing onscreen to the right is a map toolbox where you will find options for turning on/off auto follow roads, showing elevation data, turning on distance markers, an option to avoid highways, and more.*Routing in some areas will require that you turn off the auto-follow roads feature. Auto-follow roads are dependent on another option as well, the avoid highways checkbox. Auto-follow roads can be turned on or off after already creating points on a map for easier navigation and creation. Enjoy using the site to log and route your activities!
Maps not loading, or experiencing another error?
Maps may not load correctly for some users for a variety of reasons, including browser settings, operating system conflicts, network restrictions, and more. The best way to test if maps are working correctly is to follow the instructions below. If these don't help, submit a ticket to our support staff and we will investigate the issue.
Troubleshooting Tips
1. Clear your browser's cache and cookie data.
2. Update and restart your browser.
3. If you have any pop-up blockers, browser extensions, work computer restrictions, or cookie blocking options enabled they may inhibit site features, so turn them off.
After following the troubleshooting tips above refresh the page where the error occurred. If the feature still does not work, please provide us with the exact steps you took and any additional context in a support request.