UA Connected Footwear gives runners the chance to run untethered, without phones or devices. No more waiting for your watch to find a GPS signal, no more worrying about whether or not your devices are charged. Just put on your shoes and go for a run. The shoe will automatically record your workout and send the data to your MapMy app via Bluetooth (when your shoe is awake and in range of your phone).
Running Without Your Phone
If you record a run without the accompaniment of the MapMy app, you will still receive the following stats:
Start/stop time
Duration
Distance
Average pace
Splits
Stride length*
Cadence*
*only available with HOVR shoe models.
Note: you will not receive a map of your route or elevation for any untethered workout. In order to receive these stats, you must run with your UA Connected Footwear connected to a companion MapMy app.
In order for your shoes to detect your workout on their own, a few criteria must be met:
You must have successfully paired your shoes to the MapMy app and completed the mandatory firmware update. If you have not yet done this, see our Getting Started article.

You must begin your workout by running, not walking. (Your run must be at least 2 minutes in duration for your shoes to record a workout)
If you prefer to walk, we recommend that you take your phone with you and start your workout using a MapMy app. You'll still get all the benefits of having smart shoes but without the risk of losing a workout. To learn more, check out Running With Your Phone.
Syncing Runs from Shoes to App
After completing an untethered run, you may wish to view your workout stats immediately in your MapMy app; however, your workout cannot sync until the shoes connect to the MapMy app. To connect your shoes (and sync your workouts), do the following:
Make sure your shoes are awake and nearby (within 4 feet).

Open the MapMy app and tap the shoe icon in the upper right to open Shoe Home. The app will automatically try connecting to your shoes. If you are having issues connecting, check out our Troubleshooting Guide found here.
Once connected, you can tap the sync icon (two arrows in a circle) pictured below to initiate a manual sync of any workouts stored on your shoes.
It may take a few moments, but once completed, your untethered (shoe) workouts will appear under the "Latest Workout" module in Shoe Home, as well as chronologically in your Workout List.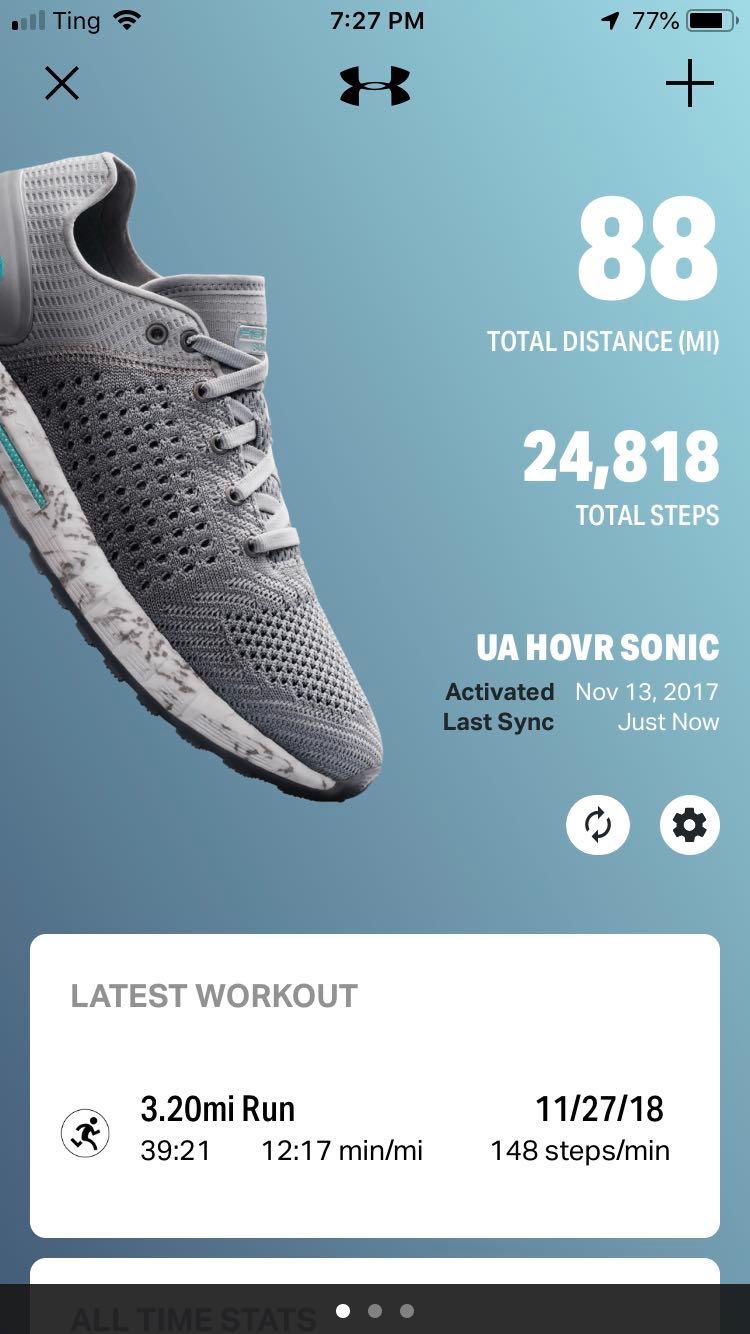 If your workout does not sync from the shoe, please let our support team know by opening the app's menu > scrolling down to select Help > Contact Support > Submit.
Viewing Workouts
Once you've completed a workout in your Connected Footwear and synced it, you can view it by opening the MapMy app and accessing your Training Dashboard or Activity Feed.
On iOS, tap the "Training" icon in the bottom navigation bar. On Android, open the app's Menu by tapping the icon with three horizontal bars in the upper left corner of the app, then select "Dashboard" from the list.
iOS Android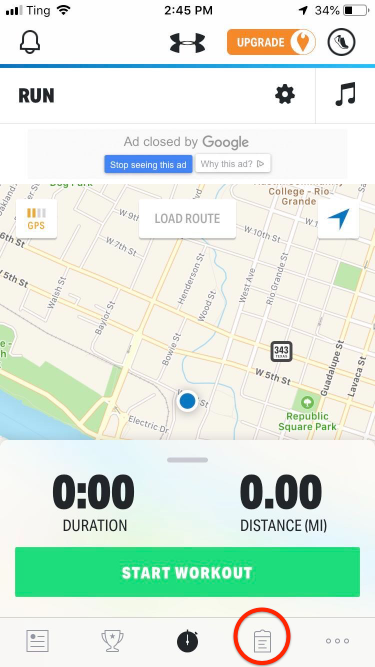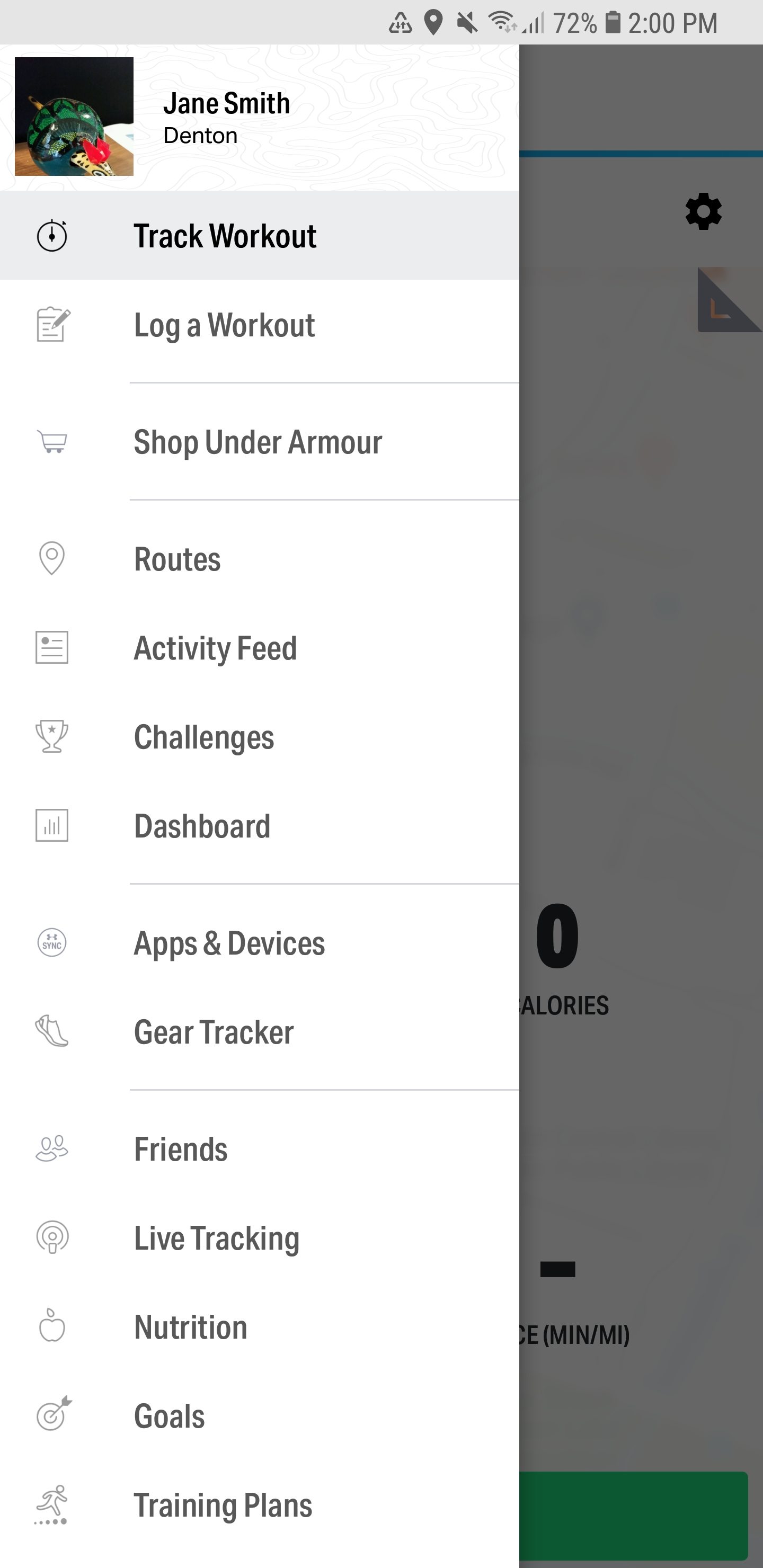 From the Dashboard, tab over to your Workouts list. All workouts recorded with your Connected Footwear are indicated by a red shoe icon, as seen below. Tap on a workout to view details.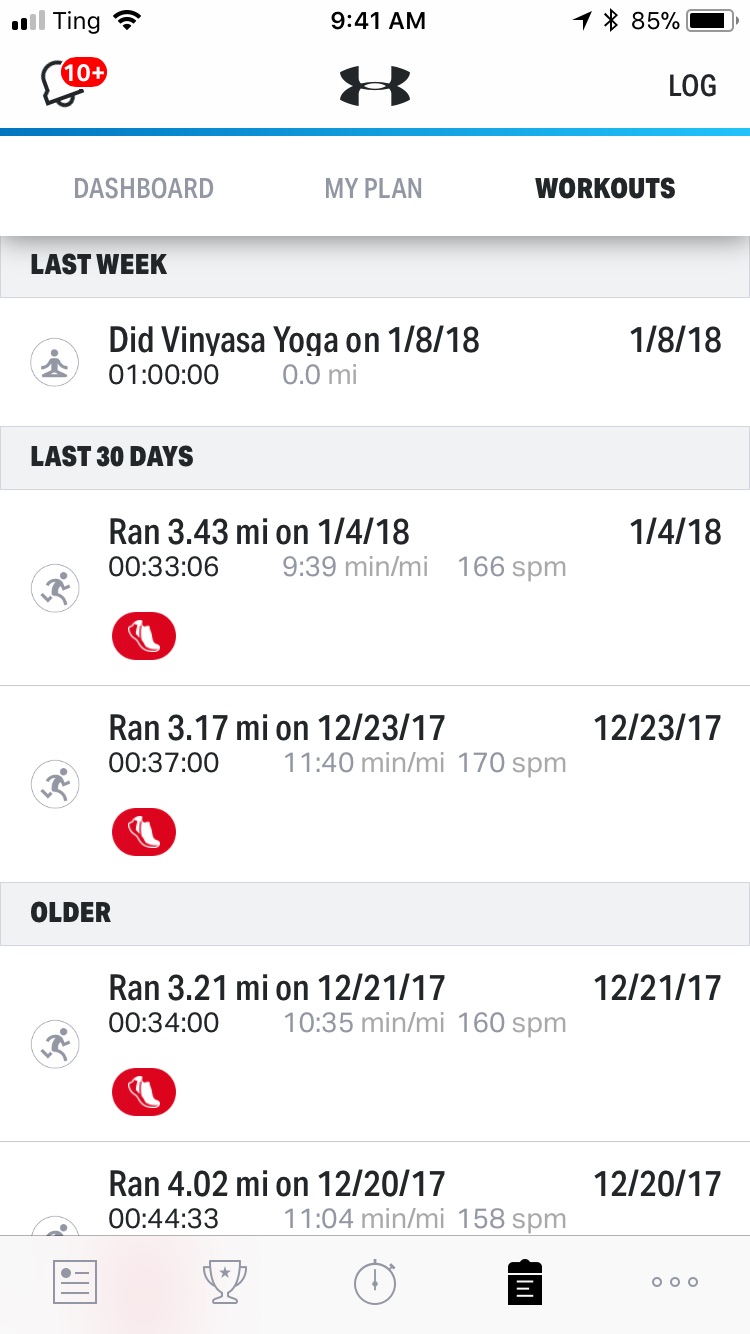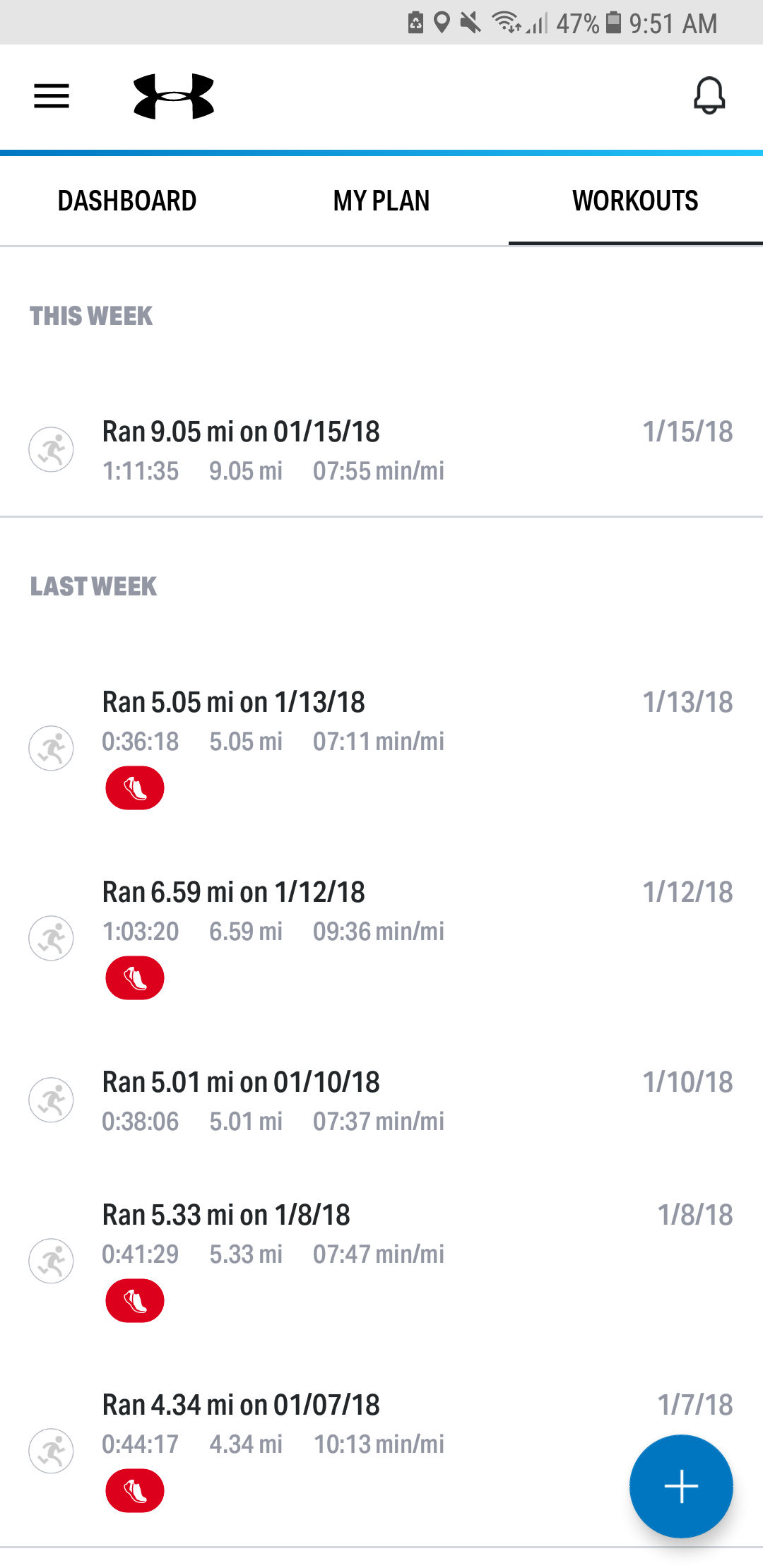 FAQs
How many runs can my shoes store without syncing to the app?
For Gemini, Europa, and Velociti shoe models, the shoe can store up to 5 runs before you need to sync your data with MapMy. The maximum limit per workout file is 47 units of measurement, which would be either 47 kilometers (metric users) or 47 miles (imperial users).
For all HOVR shoe models, the shoes will keep the last 6 hours of workouts in its memory until the shoe needs to sync with MapMy.
In both cases, if workout data exceeds the storage capacity, the oldest workouts will be replaced by newer workouts until the shoe is synced with the MapMy app.
What happens if I begin a run and then stop briefly for a break?
If you're running without your phone and stop moving or slow down significantly for several minutes before resuming your run, it's possible that 1 workout may be recorded as 2 by your shoes.
For Gemini, Europa, and Velociti shoes, if your pace exceeds 11 min/mile for greater than 3 minutes, it's likely that your workout will end. If you begin running again, a new workout will be recorded. This means that the app may have two separate workouts, and there is, unfortunately, no way to merge them at this time.
For all HOVR shoes, if your pace exceeds 14 min/mile for greater than 5 minutes, it's likely that your workout will end. If you begin running again, a new workout will be recorded. This means that the app may have two separate workouts, and there is, unfortunately, no way to merge them at this time.
If you're using a companion app, such as MapMyRun or MapMyWalk, your workout will continue recording, regardless of pace, until you end the workout on the app.
What is cadence and what does it measure?
Cadence measures steps per minute, or how often your feet hit the ground. There is no one right cadence, but generally less experienced runners have a cadence that's too low.
What is stride length and what does it measure?
Your stride length is the distance between two consecutive steps of the same foot. Tracing your stride length can keep you from "overstriding," which is often linked to injury. Most beginner runners have a stride length that's too long.
What is a Gait Coaching tip?
We use Stride Length and Cadence data recorded by UA Connected Footwear to help improve athlete performance via a feature called Gait Coaching. You can learn more about Gait Coaching here!