The app's home page is the "Start Workout" screen. If you find yourself needing to return to this page follow the steps below:
iOS: Tap the timer icon in the center of the bottom navigation bar
Android: Tap the menu icon (upper left) > select "Track Workout"
Workout Setup
Before you begin your workout, you'll want to select an activity type and make sure your workout setting is correctly configured. Follow the instructions below to access the Workout Setup screen.
Tap the settings cog in the upper right. To change the activity type, tap "See All Activities" > tap "All" > tap the magnifying glass > type your desired activity type and tap it.
You can also enable/disable pertinent workout settings, such as Voice Feedback, Auto-Pause, Delay Start Timer, Coaching (MVP only), and Live Tracking (MVP only). You can configure stats and select gear for your workout, as well.
iOS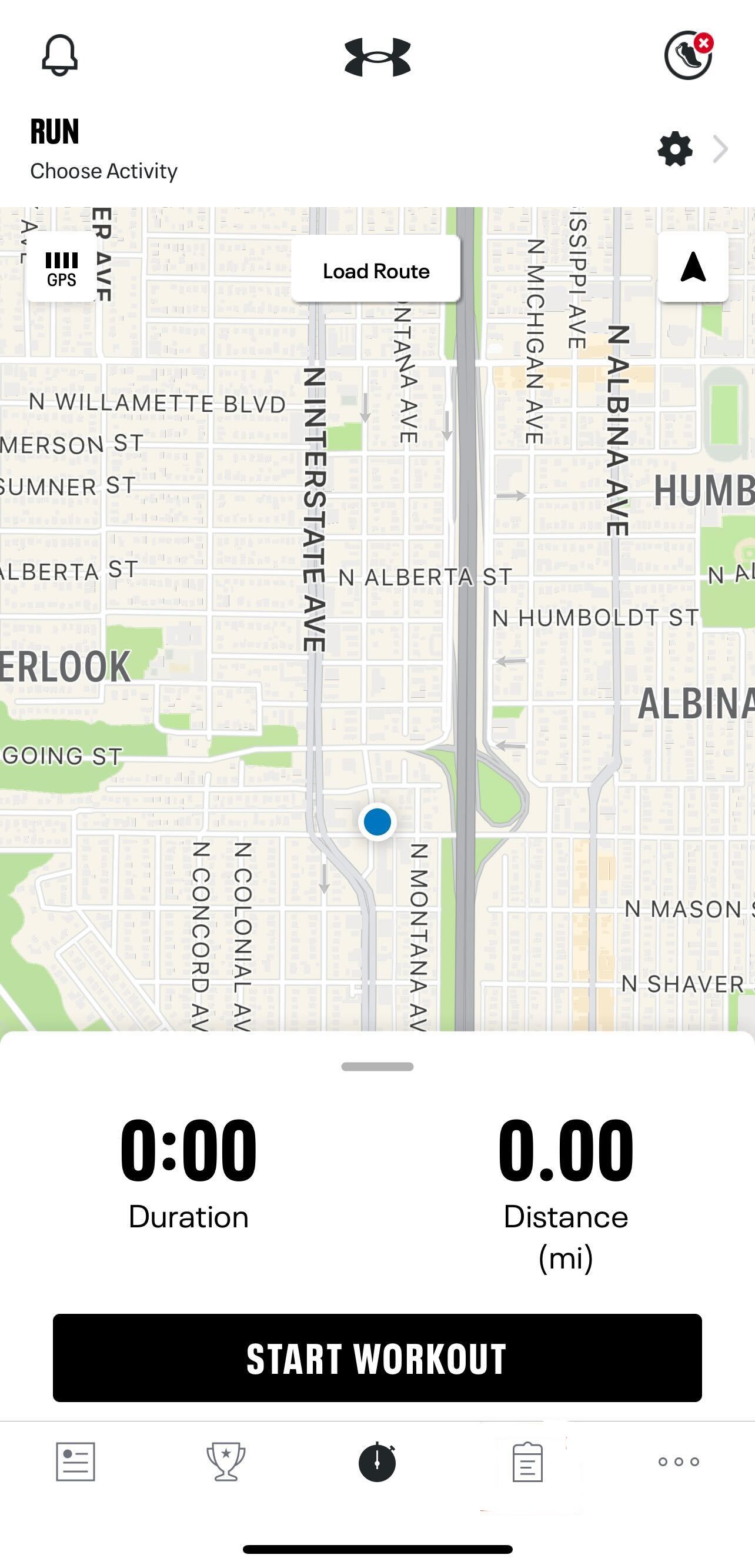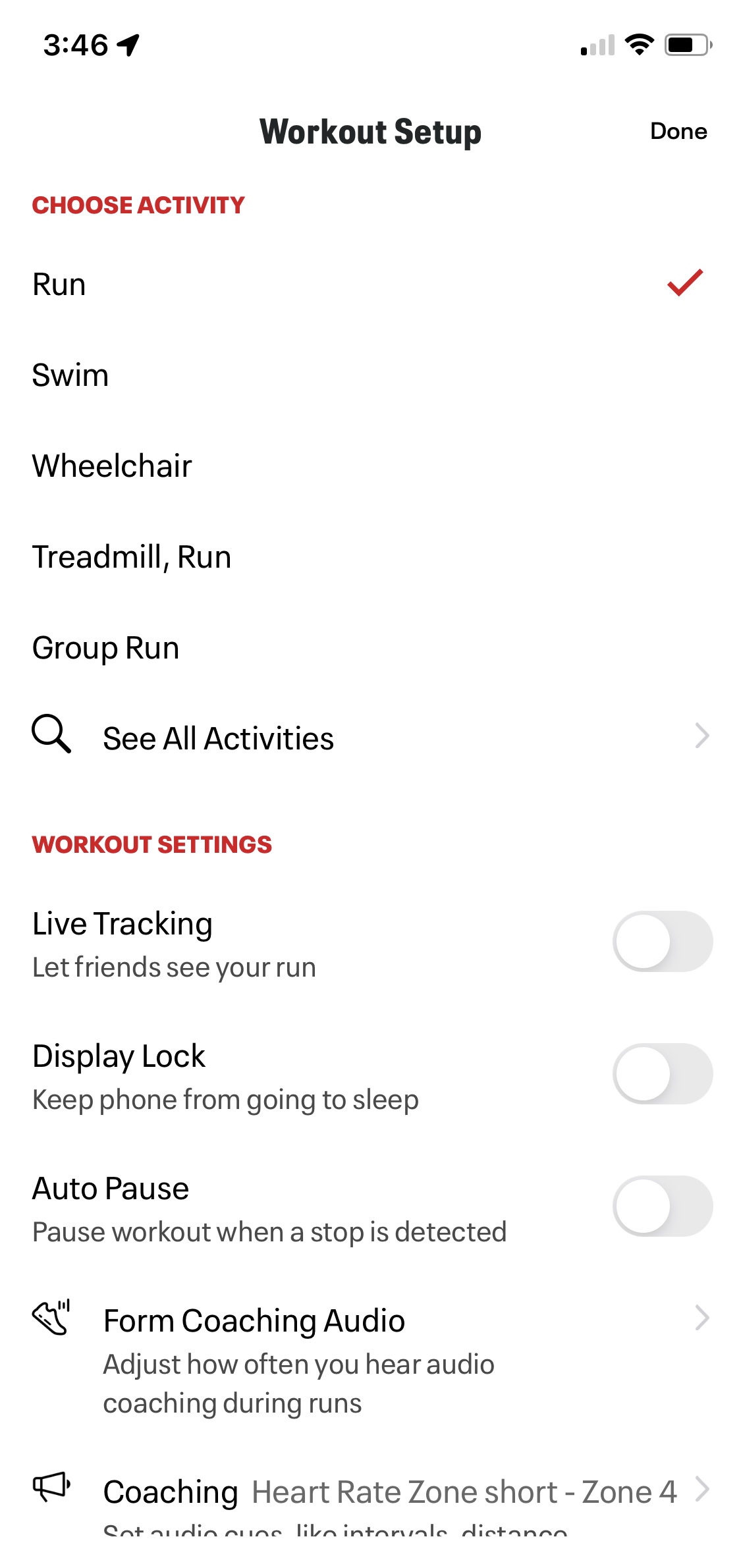 ANDROID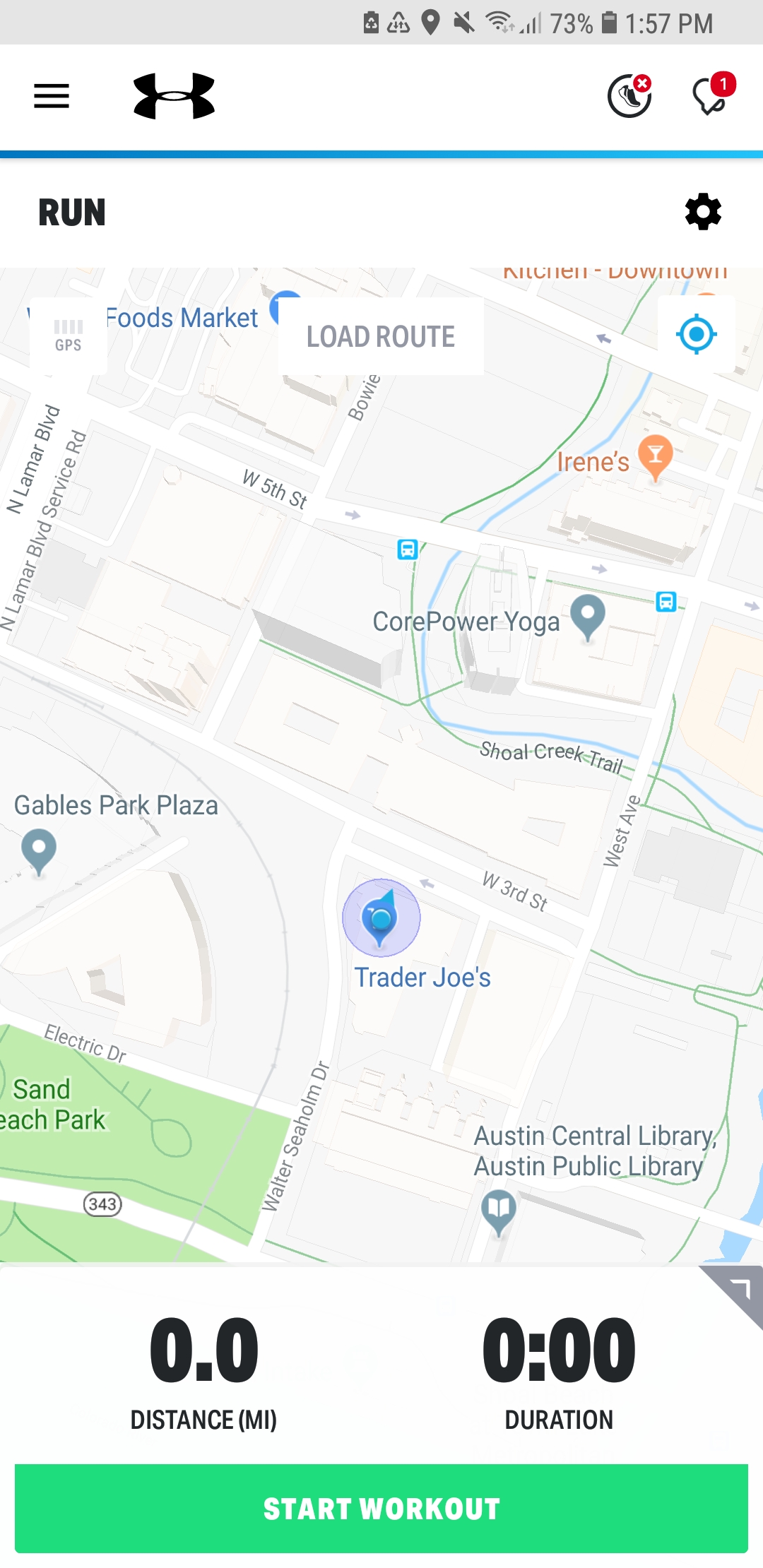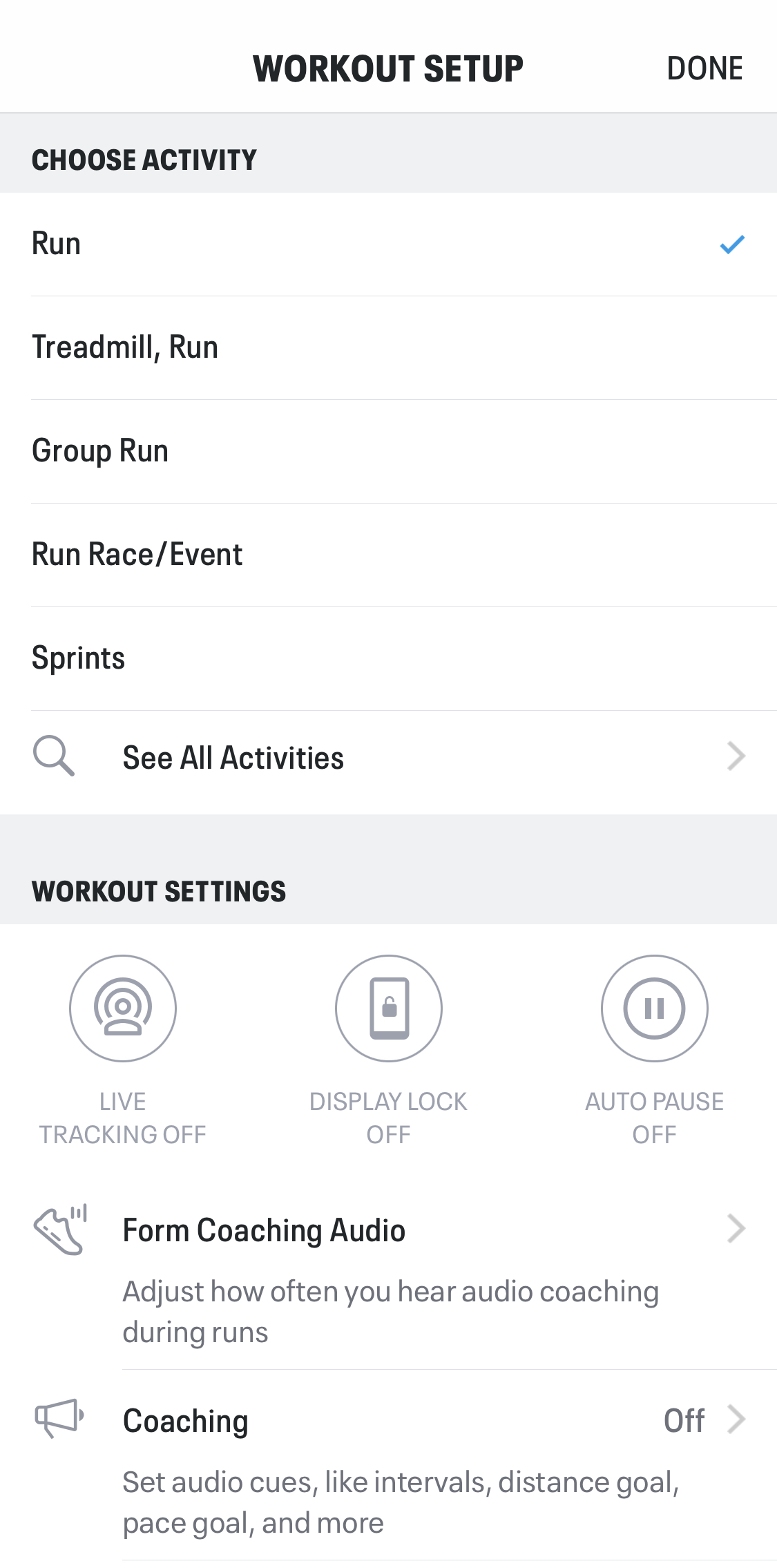 Once your workout is set up correctly, you can tap the "Done" icon (iOS), or the back arrow (Android) to return to the Start Workout screen. Tap the green "Start Workout" button to begin recording a workout.
Recording Your Workout
Once you start recording a workout, the app will track your route and display your workout statistics, including distance, duration, pace, calorie burn, and heart rate (if selected). Swipe left to right to scroll through stats while retaining map view; swipe up on the stats panel to make them full screen.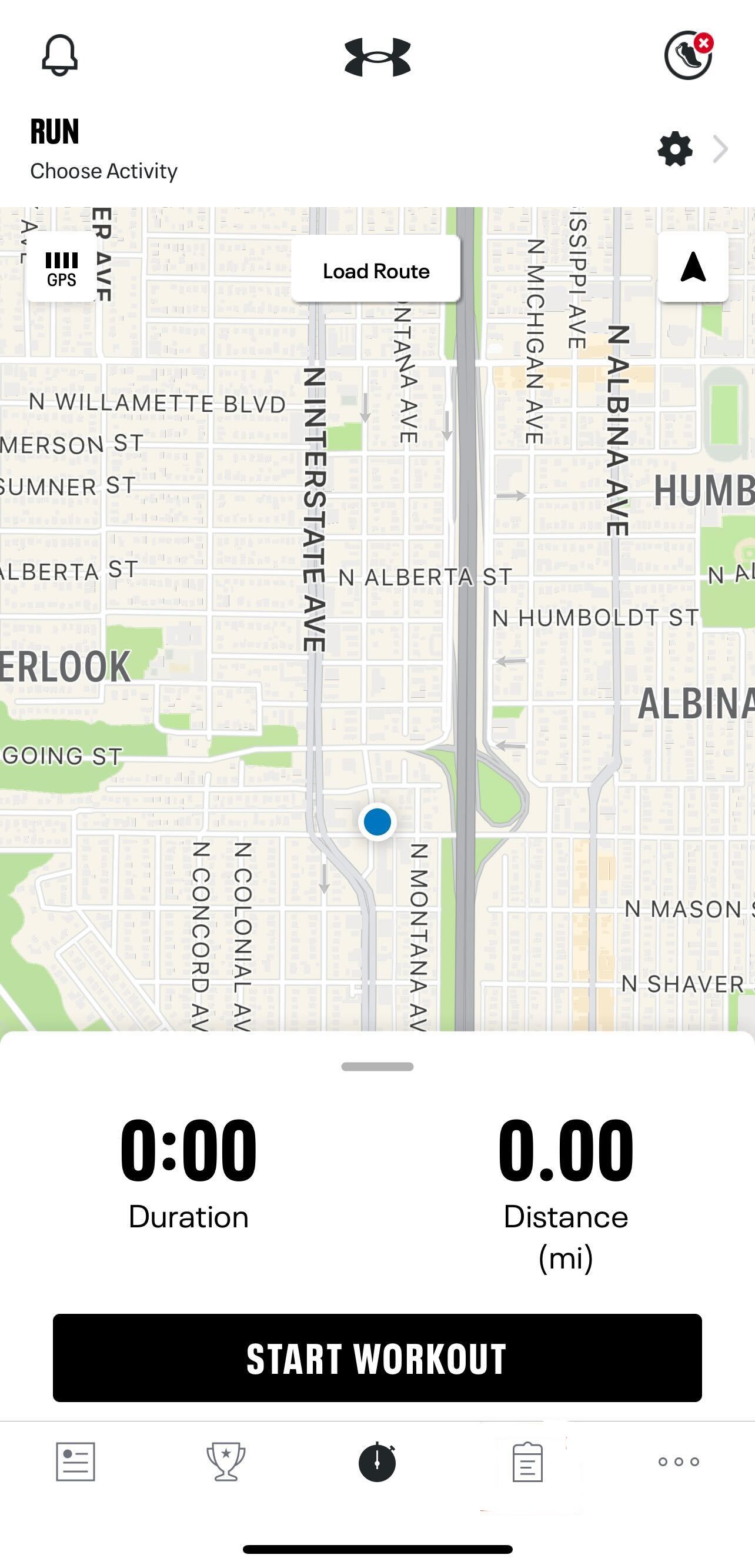 Indoor or Stationary Workouts
When recording an activity that does not use GPS, such as a gym or indoor workout activity, various metrics will not be recorded using the mobile app. GPS is turned off for indoor workouts because it cannot reliably record this information or a map to calculate your statistics. When recording an indoor workout type, you will need to manually enter information other than the duration and for some activities a very generalized calorie calculation.
For help with editing an indoor workout to include distance, calorie burn, or other stats, check out our Help Center article on Editing & Deleting A Workout.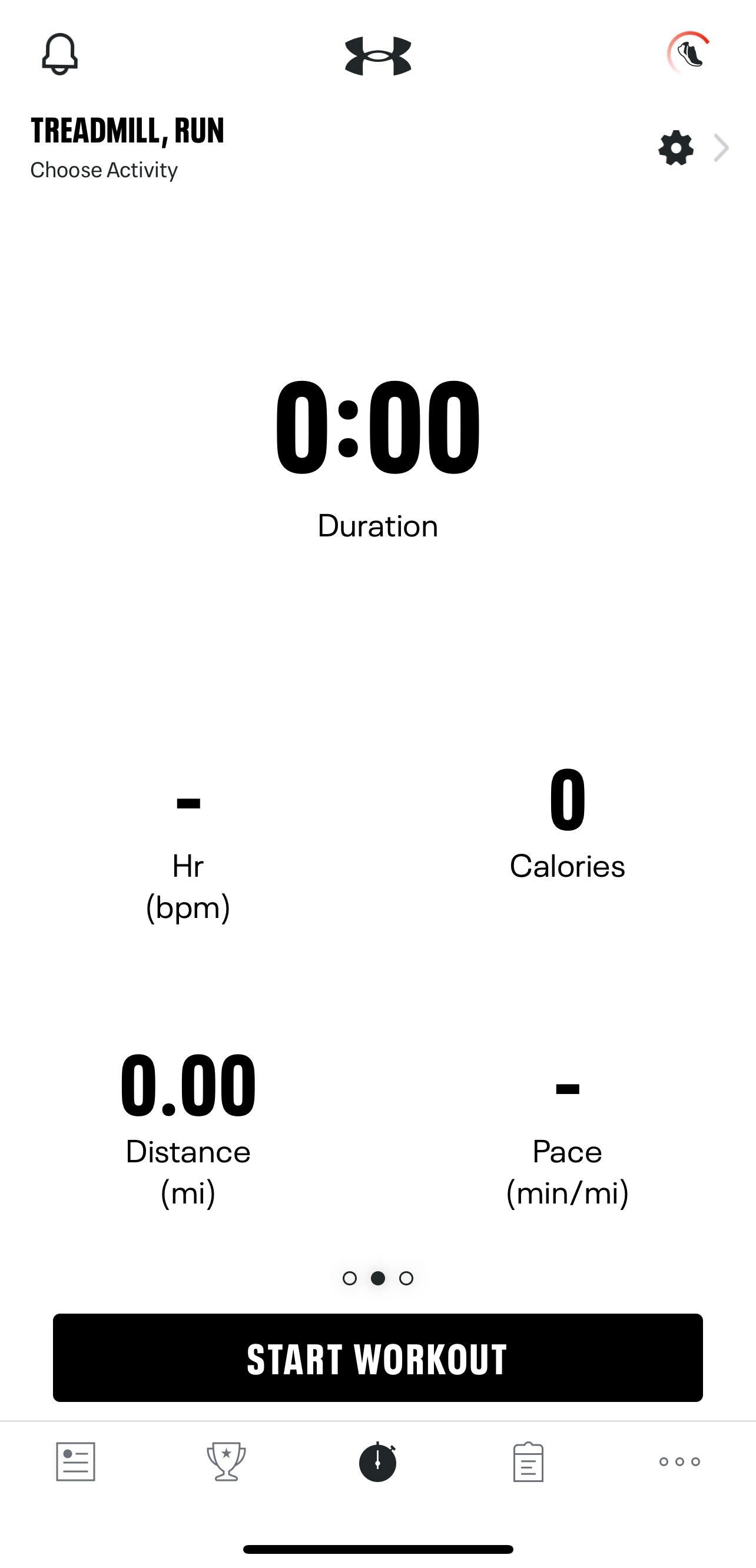 To pause or end your workout, tap the "Pause Workout" button. Once paused, you can either resume the workout or end your workout.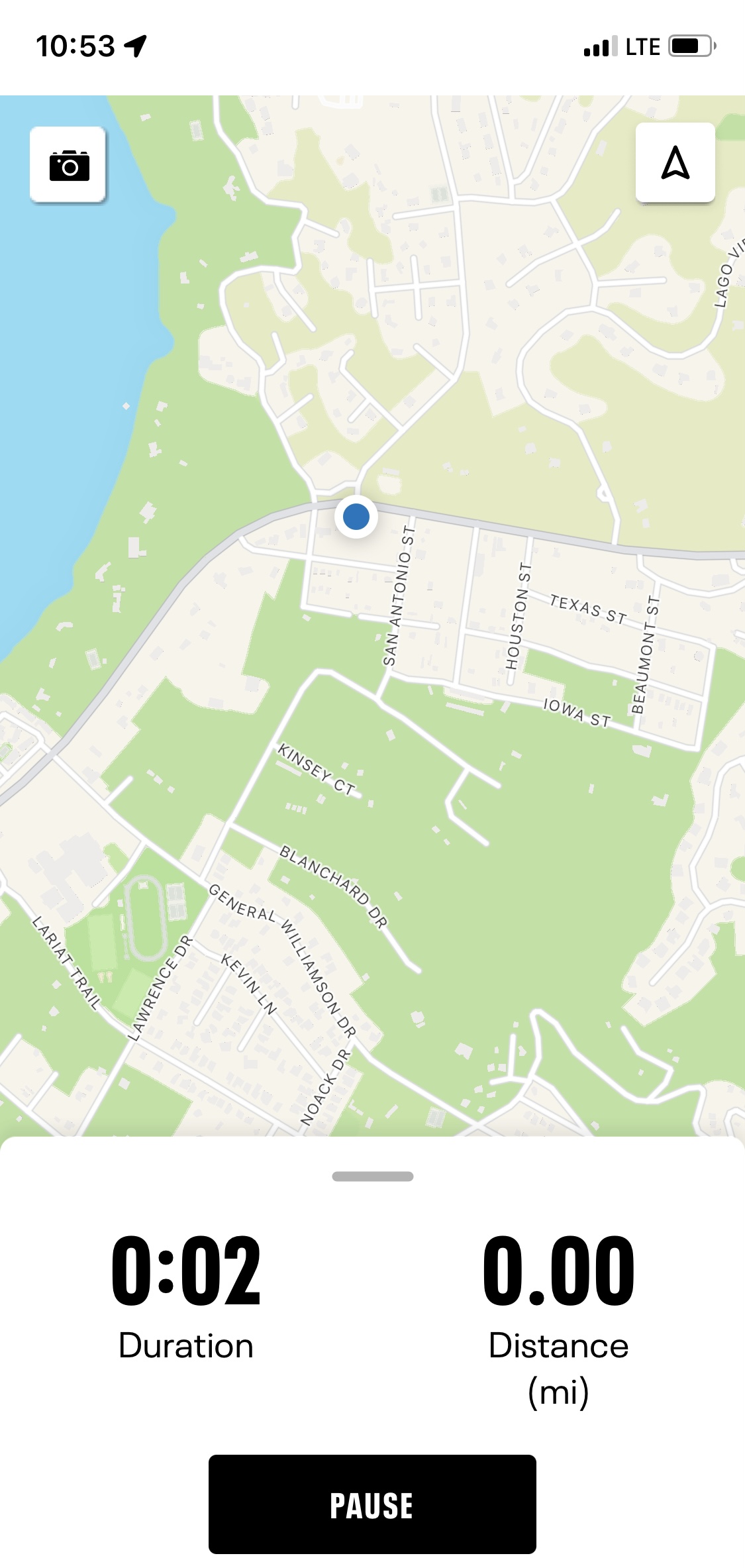 To end your workout, hold down the "Hold to Finish" button for a few seconds until the red circle is completed. After finishing a workout, a workout cannot be resumed.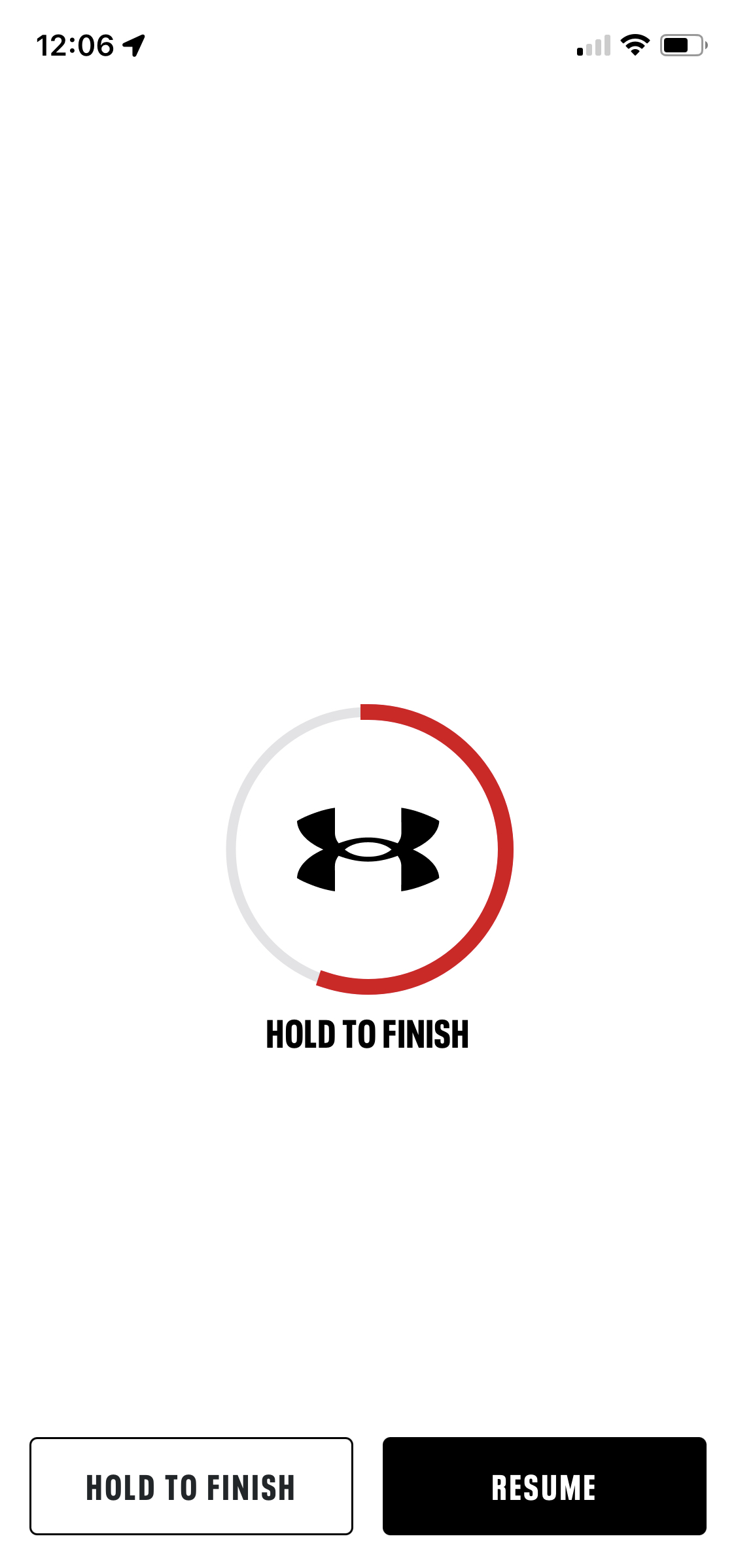 On the next screen, you can choose to add a photo or note to your workout, enable/disable sharing to Facebook, customize which stats you'd like displayed (if the photo is added), and select your preferred privacy setting for your workout.
iOS Android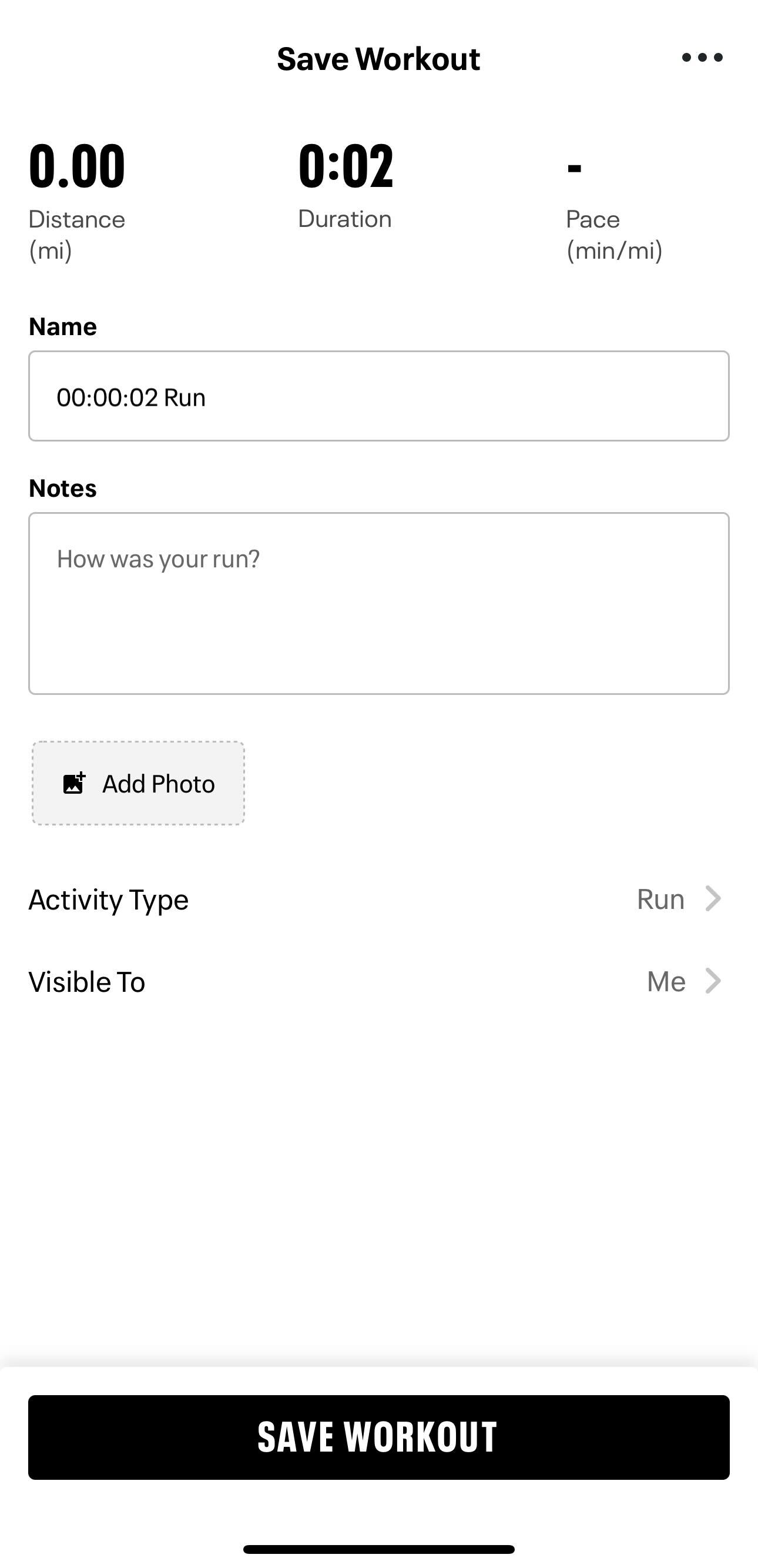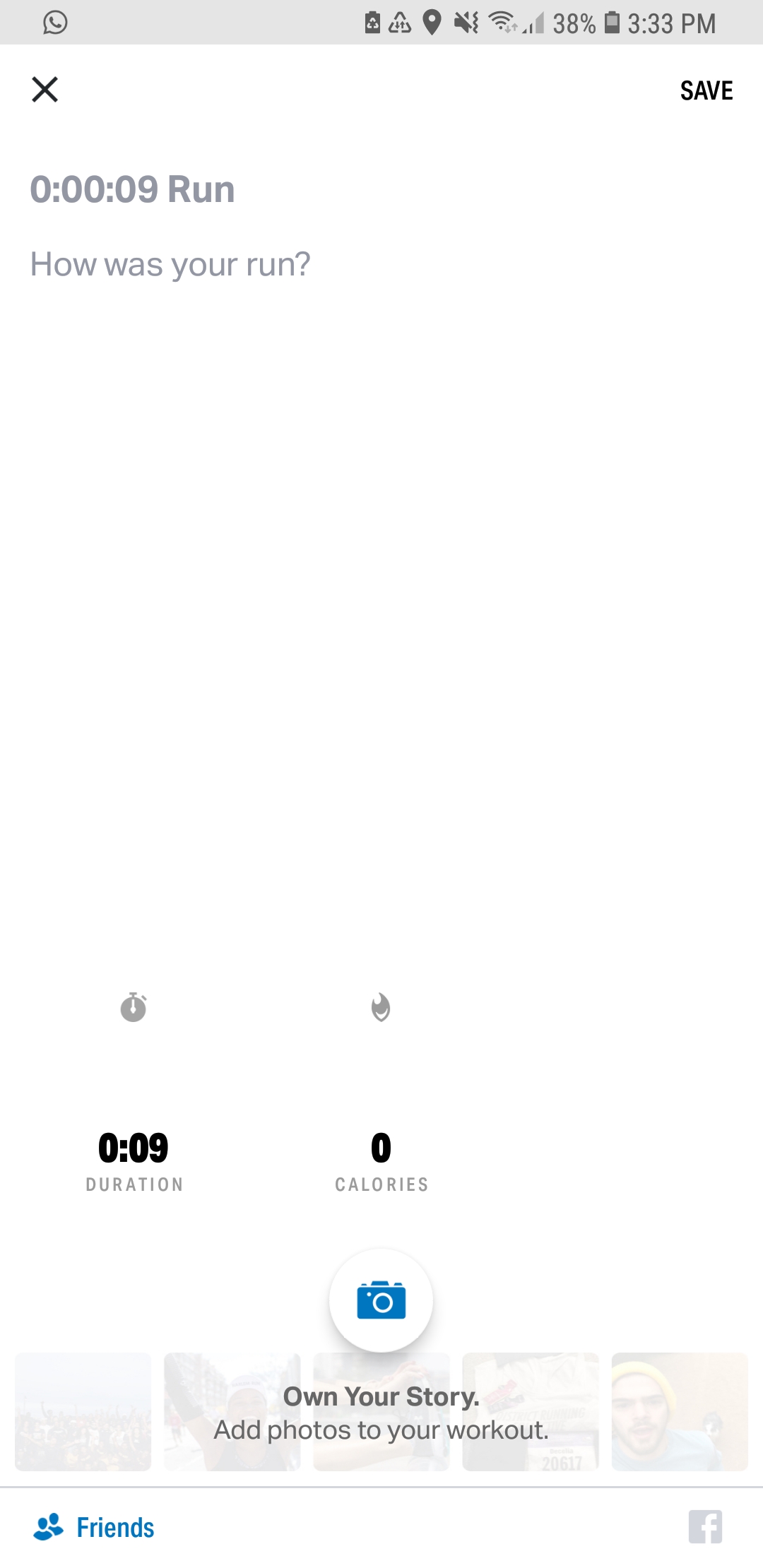 In order to sync your workout to our servers, you must tap the Save button.
Workout Troubleshooting FAQs
Where did my workout go?
The latest version of the app has a perfect save feature, which should eliminate lost workouts in most cases. To learn how to sync un-synced workouts click here!
How do I edit a workout?
Here is a helpful article with screenshots on how to do that: Click here to learn how to edit a workout!
What do I do about my indoor workouts?
You can log an indoor workout, or record it. Click here to learn how to log a workout! For indoor workouts, GPS will be turned off, and extra information will need to be entered in order to get proper calorie calculations.
How do I export workout data?
Exporting workout data requires the MVP membership. Currently, we only offer bulk workout export in the form of CSV files. We also offer an option to download workouts individually as TCX files from their website workout summaries. To do so visit your workout calendar, pick a workout, and on the summary click the button labeled "TCX" next to the "Edit" and "Copy" options.
How do I delete a workout?
On a mobile device, first, go to your workout list view:
Android: Tap and hold the specified workout > tap trash bin in upper right to delete
iOS: Swipe from right to left on the specified workout > tap delete
On the website, the workout can be deleted from the workout details page.
How do I access my workout's heart rate information?
Heart rate graphs and analytics are currently only available in-depth on the site for MVP subscription members. On the website, you can view this data to the right of the map by changing the "Analysis Type" filter. Below the map, you can see a graph of your heart rate as well. If it does not appear immediately on the workout summary graph make sure to click the translucent heart rate button alongside elevation and pace/speed. Clicking on each split will provide access to each split's data, including max pace, max heart rate, and average heart rate. By clicking a workout on the site that you recorded with a heart rate monitor you will be able to see graphs and time spent in heart rate zones.
How are calories measured?
For more information about calorie measurements click here!
Can I record more than one activity type in a workout?
Unfortunately, we do not have a good way to switch to a different workout while recording or associate multiple workouts in one activity recording. For this, we recommend logging or recording multiple workouts in a row
How do I view one mile/km splits?
For workouts over certain distance thresholds, the distance of the default splits displayed in the app will increase as well. This means that for workouts over 10 miles/kilometers, you will see 2 miles/kilometer splits, and for workouts, over 20 miles/kilometers you will see 5 miles/kilometer splits. If you are an MVP member, you can adjust this in the app by tapping the "Settings" button below "Analyze this Workout" which will allow you to choose the split distance you want to be displayed.
If you are not an MVP member, you will still be able to see the 1-mile splits by viewing the workout on our website.
How do I change my activity type?
To change your activity on your mobile device, please go to the "Record a Workout" screen > tap the Gear Icon > tap "See More Activities" > tap "All" > tap the search bar (iOS) or magnifying glass (Android) > type your desired activity type and tap it.
What if you do not have the activity type I want?
Please submit a support ticket and one of our agents will be in touch with you shortly!
If you have any other questions or concerns, please check out the rest of our Help Center, or submit a support request here.